Typhoid Maybe
[Made For The Business Card Jam]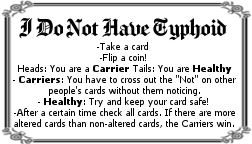 Typhoid Maybe is a game about trickery, deception, and sleight of hand. It is also an example of how a disease can easily spread without being noticed.
At the start of the game, everyone takes a card and flips a coin. Those who get heads are Typhoid carriers. The carriers have to try and cross out the "Not" on other people's cards.
Those who get tails have to try and protect their card and prevent it from being altered.
At the end of the game, if there are more altered cards than unaltered cards, the Carriers win!
Typhoid Maybe contains:
Sheet of cards (PDF)
Single Card (PNG)
Envelope Template (for card storage)
You will also need:
Coin (To flip)
Pens or other writing implements (to vandalize the cards)
Download
Click download now to get access to the following files:
Typhoid Maybe Cards.pdf
4 MB
Typhoid Maybe Envelope.png
116 kB
Typhoid Maybe (Single Card).png
15 kB